About
Ducted Air Conditioning
Looking for a simple way to manage the cooling and heating of your home? A ducted air conditioning system allows you to cool and heat multiple rooms throughout your home, all from the same easy-to-use unit.
Full control of each zone
Tailored to suit your needs
How
Ducted Air Conditioning
A ducted air conditioning system provides cooling in summer and heating in winter, keeping your home comfortable all year round.
The ultimate in temperature control for your home all year round whether it be cooling for a hot summer or heating for a cold winter. Every system is designed to suit each home's individual needs.
The easy-to-use MyAir system gives you the option to select which ducts are in use, meaning you never need pay to heat and cool rooms you don't need.
is quiet and easy to use.
gives you full control over which zones of your house are cooled and heated.
allows you to cool each room of your house to the same temperature on those hot Perth days.
has a long life expectancy.
can be fully tailored to suit your needs.
to advantage air ezone system
Control is intuitive
The e-zone touchscreen controls both the air management system as well as the air conditioning unit. With every room zoned independently, everyone can have their room at the temperature that suits them.

7-inch colour touchscreen that doubles as a tablet
e-zone app for smartphones and tablets
Compatible with all major air conditioning brands
Practical, user-friendly graphics
Adjust the airflow to any room from 5 -100%
Option of temperature sensors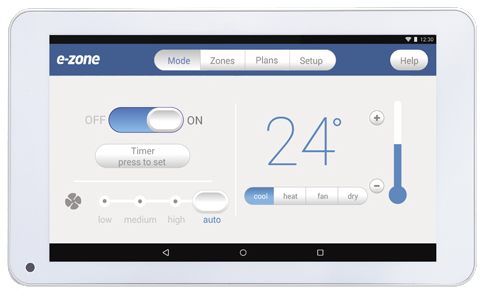 Why
Choose Wanneroo Gas & Air Centre?
Wanneroo Gas & Air Centre has more than fifty years' experience helping Perth families heat and cool their home. We offer expert advice and service and, as specialist dealers of Panasonic ducted air conditioning, we offer the latest products to keep your home cosy and comfortable all year round.
The experts at Wanneroo Gas & Air Centre will help you choose the best brand and system, based on the layout of your house, your budget, and your cooling and heating needs.
Contact us for a free quote today.
TESTIMONIALS
What People Are Saying
Just a quick email to express our thanks. We could not be more happy with everything from start to finish. Very professional.
A big thank you for your excellent service. It was hassle free on our part. Your tradesmen were very professional. We have recommended Wanneroo Gas & Air Centre to our friends.
We really want to thank you guys for the professional service provided. We were really amazed at how quick and clean the job was carried out. We love our new ducted reverse cycle airconditioning system.
Knute was extremely helpful, responsive, and honest to his word. He was on time and professional with the measure-up and install. The quality of the installation and eye for detail was impressive. Thank you very much for making our house feel brand new.